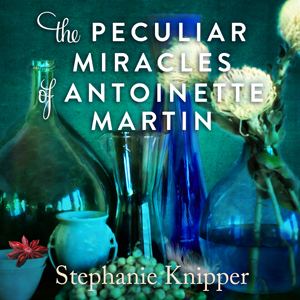 The Peculiar Miracles of Antoinette Martin
By Stephanie Knipper
Read by Cassandra Campbell and Andi Arndt
"This charming debut will appeal to those seeking elements of magic realism, family relationships, and personal growth, as well as Sarah Addison Allen fans." —Library Journal
In the spirit of Vanessa Diffenbaugh's The Language of Flowers—and with a touch of the magical—The Peculiar Miracles of Antoinette Martin is a spellbinding debut about a wondrously gifted child and the family that she helps to heal.  
"The Peculiar Miracles of Antoinette Martin is the kind of book that invites you home, sits you down at the kitchen table, and feeds you something delicious and homemade. You will want to stay in this world, where new relationships bloom out of broken ones, sisters find one another again, and miracles really do occur. Antoinette will stick in your head like a beautiful song."
─Tiffany Baker, New York Times bestselling author of The Little Giant of Aberdeen County
Read the full description.
________________________
How to Win This Audio CD
Send an email to newsletter@highbridgeaudio.com
Put the word "Peculiar" in the subject line.
Entries must be received by August 31, 2016.
See the Program Details for more information.
________________________
July Giveaway Winner
Congratulations to Judy Whorton, winner of last month's giveaway, The Baseball Whisperer! Thanks to all who participated.