"The book's strength lies in thoughtful, wry reflections from artists including Elvis Costello, Jimmy Cliff, Stevie Wonder, Booker T. Jones, Dr. John, and Debbie Harry. An entertaining record of the soundtrack of the baby boomer era." —Kirkus Reviews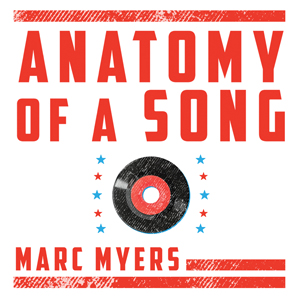 Every great song has a story that needs to be told. In Anatomy of a Song, based on the ongoing Wall Street Journal column, writer and music historian Marc Myers brings to life five decades of music through forty-five transformative hits and oral-history interviews with the artists who created them. Read the full description.
"Myers provides a new introduction to the songs, which were written between 1952 and 1991, setting each in its cultural context, as well as indicating its historical significance. . . . Music fans will enjoy the behind-the-songs stories." —Publishers Weekly

____________________________________________________
Anatomy of a Song
By Marc Myers
Read by Jonathan Yen
How to Win This Audio CD
1. Send an email to newsletter@highbridgeaudio.com
2. Put the word "Song" in the subject line.
Entries must be received by November 30, 2016.
See the Program Details for more information.
___________________________________
October Giveaway Winner
Congratulations to Michael Hoffman, winner of last month's giveaway, Something in the Blood. Thanks to all who participated.